THE LAST PETER LE NEVE
We must now turn back to Henrietta Le Neve, Oliver Le Neve's youngest daughter, who married a distant cousin, Edward Le Neve of Soho. The wedding took place on 3rd July 1718 in St. Paul's Cathedral and Edward and Henrietta afterwards settled down in Soho Square. There were three children of the marriage, Peter, born in 1719, Elizabeth, born in 1720 and Robert, born in 1723. Robert died in infancy, Elizabeth married Vice-Admiral Pigot, R.N., and Peter appears to have left London and settled in Norfolk. There is no record of Henrietta's death, but it is known that Edward married a second time, and curiously enough another relation, Mary Le Neve of Richmond. It may well have been that Peter objected to his father remarrying or he may have quarrelled with his stepmother and this may account for his move to Norfolk. His sister Elizabeth would, of course, have escaped from her stepmother by her marriage to Admiral Pigot.
Quite when or how Peter came to East Anglia is not known, but if one remembers that his great Uncle Peter's second wife was the daughter and heiress of Robert Beeston, the Witchingham miller, he may well have inherited property and possibly the lease of Lenwade Mill from this source. He also had a substantial inheritance from his Aunt Isabella Le Neve as you will see from the next paragraph, but this cannot have helped him very much as he only got the benefit of it during the last year of his life.
The Phillips Manuscript has this to say: "Copy of Monument in Ringland Church. Sacred to the memory of Isabella Le Neve, late of Arlington Street, Westminster, eldest daughter of Oliver Le Neve of Great Witchingham in this county Esq., who was younger brother of Peter Le Neve Esq., Norroy King of Arms. She divided her property which was very considerable between Peter Le Neve of Norwich Esq., her nephew and the children of her sister Elizabeth who married Hugh Pigot Esq. a captain in the Navy". Obviously Phillips has made a slip of the pen, as Isabella had no sister Elizabeth and an examination of the actual monument confirms that the word given by Phillips as "her" is in fact "his". Of course this alters the whole sense of the statement and makes it quite clear that what actually happened was that Isabella left her fortune to be divided between her nephew Peter Le Neve and the children of his sister Elizabeth, that is, the two Pigot children, her great niece and great nephew. As Isabella died in 1759 at the age of seventy-four and Peter, her nephew in 1760 aged forty-one, he gained little from his inheritance, but no doubt his daughters did so as they were able to make some quite extensive land sales at a later date.
Peter at Ringland
It is stated in another part of the Phillips Manuscript that Peter Le Neve, son of Henrietta and Edward Le Neve, was in occupation of Ringland Hall together with land at Ringland, Tuddenham and Great Witchingham. It would seem likely that this land formed the basis of his Aunt Isabella's fortunes and as he could not, at that period, have inherited them as Isabella was still alive, perhaps he leased them from his aunt who was apparently living in Arlington Street, Westminster, and may well have been glad to fmd a reputable tenant for Ringland Hall. Obviously Peter could not have been in occupation of Witchingham properties, as these would by this time have passed into the hands of the Norris family as already explained.
My own view-but of course this is only surmise-is that Peter inherited the lease of Lenwade Mill together with the leases and freeholds of some of the adjoining land (including that upon which the White House now stands) from his Beeston relatives, together with Ringland Hall and the other land mentioned from his Aunt Isabella. But this part of the Le Neve story is very badly documented.
Peter married a Miss Elizabeth Mingay, the daughter of a Norwich barrister. The Phillips MSS. describe Peter as a "dumb man", another authority suggests that his wife was a deaf mute, and yet another states that Peter himself was a deaf mute but makes no mention of his wife. There is some reason for doubting all these statements. I have in my possession a miniature of David Garrick which is said to have been painted by Peter Le Neve (though no other evidence of his having artistic ability exists). It is known that Garrick was in Norwich, in management, in 1749 and again, playing in "The School for Scandal" in 1753. These dates fit in with Peter who was born in 1719 and died in 1760. He must have known Garrick very well to have painted him or, what is more likely, for Garrick to have given him a miniature of himself.
A friendship as close as this with the best known actor manager of the period hardly fits in with the supposition that Peter Le Neve was a dumb man married to a deaf mute.
A friendship as close as this with the best known actor manager of the period hardly fits in with the supposition that Peter Le Neve was a dumb man married to a deaf mute. It is more likely that Peter may have had a bad stammer or other impediment in his speech or that he or his wife were deaf or at least very hard of hearing. The fact that in an earlier generation "Poor Jackie" and his grandfather Gawdy both had difficulty in speaking suggests the possibility of a speech or hearing defect inherited &om the Gawdy family. This defect, if hereditary, appears to have persisted. In the middle of the last century there was a Le Neve cousin in Norfolk who is known to have been so deaf that she could not hear a train and relied on her horse's ears to stop at level crossings if a train was approaching. At least two members of later generations have had a stammer.
Peter Le Neve's Children
Peter Le Neve had three children, two daughters Isabella and Juliana (?) Le Neve and a "natural son" known as "Peter Foster" (or according to one note I have as "Peter Le Neve"). One of the daughters, Isabella, married a surgeon named Arnold and the other daughter whose name may have been Juliana, but there is some doubt about this, is said to have married "his apprentice"- presumably the apprentice of her surgeon brother-in-law. But another source of information says quite distinctly that her name was Juliana and that she married a Mr. Harold, a singer, of Nayland, near Colchester. The dates of the marriages are not known.
Turning now to the "natural son", nothing is known of his mother, but the Witchingham parish registers of a slightly earlier period do contain a reference to a "Widow Foster" and the pedigree of the Beevor family of Swanton Morley alludes to a William Foster, a solicitor in Norwich who married one of the daughters, so that there was evidently a family of the name of Foster living in the district.
Peter Foster was brought up by his father, presumably at Ringland Hall, as a member of the Le Neve family and was regarded by his two legitimate sisters as their brother. Perhaps his mother died when he was a baby and the infant Peter was, very properly, cared for by his father. Apparently Mrs. Le Neve, the former Miss Mingay, raised no objections to the offspring of her husband's mistress living in the household.
Or perhaps Peter was the progeny of an earlier but secret marriage and was really a step-son. This would account for my note to the effect that he was known as Peter Le Neve as well as Peter Foster. But very little is known for certain about the period between Peter's birth in 1750 and some property deals, which I will come to in the next paragraph, in 1790. I have examined the parish registers of Great Witchingham and Ringland but can find nothing which sheds any light.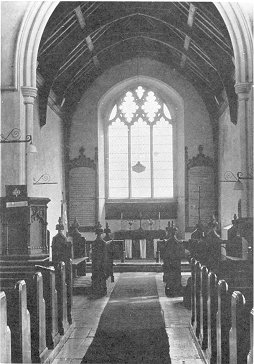 Interior of Ringland Church. The last Peter Le Neve is buried in the chancel in front of the High Altar, immediately beyond the opening in the altar rails.
Our old friend the Phillips MSS. sheds a little light on the period, but not very much, though the following quotation is of interest: "Peter Le Neve had a natural son who is a considerable farmer and miller at Witchingham and goes by the name of Peter Foster, he is also in possession of some part of the estates". It is also known that Peter Foster was on friendly terms with Parson Woodford of Weston (he figures in Parson Woodford's Diaries) and that in 1790 he was well enough off financially to purchase from his "half sisters" some copyhold property at Great Witchingham. From all this it is fairly obvious that he was a man of some substance and that he was of socially acceptable standing in spite of the circumstances of his birth. A miniature of him shows a fat faced peaceable and easy going country squire, but he must, beneath this appearance, have been a good man of business.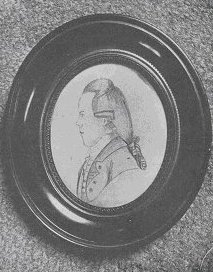 Peter Foster (1750-1806), miller, farmer and landowner of Lenwade. The "natural son" of Peter Le Neve of Ringland. From a miniature by an unknown artist.
The property deal with his "half sisters" in 1790 led to a quarrel between Peter Foster and Parson Jeanes, the Rector of Great Witchingham. No one knows why the Rector objected to the deal, but whatever the cause may have been, the result was a quarrel so violent that after service one Sunday morning, Peter and his wife, Anne, had to seek help from Parson Woodford at Weston. Peter's wife, the former Anne Chambers, a Norwich milliner, is known to have been a woman with a most violent temper-once in a fit of rage she smashed the window of the London to Norwich coach with her fist-and one wonders how far the quarrel with Parson Jeanes was "six of one and half a dozen of the other" or whether the Rector, perhaps with some justification, feared being landed with a quarrelsome neighbour.
The two Le Neve daughters sold the Ringland and Tuddenham properties, perhaps in 1790 when they sold the Witchingham copyhold to their "half brother". Once again the Phillips MSS. sheds a little light. Apparently the properties including Ringland Hall and the land at Tuddenham were sold to a farmer, a Mr. Culley who pulled down the Hall and sold the materials but left the garden wall and barns standing. A note adds that Witchingham Hall is also pulled down but that a very old manor house attached to it is still standing. Perhaps this is the old house which is (1966) standing though empty and in a very bad state of repair.
Peter Foster died in 1806 at the age of fifty-six and is buried in the chancel of Great Witchingham Church his Le Neve ancestors. His grave is just below the memorial tablet to Oliver Le Neve of duelling fame and adjacent to the grave of the Oliver Le Neve who is described as such a paragon of all virtues. The last Peter Le Neve, Peter Foster's father, is buried in Ringland Church immediately in front of the high altar.