PETER LE NEVE-FOSTER I
Peter Foster and his wife Anne had four children, a son Peter, who adopted the name Le Neve-Foster, and three daughters, Julia, Eliza and Mary, who became Mrs. Wright, Mrs.Leeds and Mrs. Chambers.
Peter Le Neve-Foster is not a particularly interesting character apart from the fact that he amalgamated the names Le Neve and Foster. He was born in 1780 and died in 1828. The circumstances in which the two family names were amalgamated are not known. There is no trace of a document comparable to the very pompous one issued to the Preston family when they adopted the name and arms of Jermy at Stanfield Hall in 1838 (see Chapter VIII), but in the latter case the circumstances were not at all comparable and the document had some bearing on a property inheritance. There were no such complications at Witchingham and Lenwade. It is possible that when Peter inherited from his father in 1806 he may .lave petitioned George III for a Royal Licence or have approached the Earl Marshal for permission to adopt the Le Neve arms. In view of his position in the district it is likely that such a petition would have been granted, perhaps with the arms "differenced" and something of this sort may well have happened though there is no record of it amongst the family papers I have seen, nor have I he.ard any suggestion of this sort at the College of Arms.
But to return to Peter Le Neve-Foster, the man. Nothing is known of his early life, but from his correspondence it is obvious that he must have had a fairly good education. Perhaps he attended the Norwich Grammar School (though there is no trace of him in the school records) or he may have had a tutor or have been taught by his father's friend Parson Woodford, but again no records exist to prove or disprove these theories.
In 1802, after the Peace of Amiens had made it possible for English people to travel on the Continent, Peter was sent by his father to Portugal where he spent some time in Lisbon staying with a cousin, William Chambers, who lived in that city. A little later on he obtained a French passport and went to Paris. Some of his letters survive from which one learns that he travelled from Lisbon to Le Havre by sea and thence to Paris by Dilegence-the French equivalent of the English stage coach. He seems to have been more interested in things than in people as his letters deal mainly with the type of crops he saw and the general standard of farming in the country between Rouen and Paris.
After his return to England he went into partnership with his father and after the latter's death in 1806 he became the sale lessee of Lenwade Mill (a water-driven corn mill) and the Lenwade Bridge Inn as well as inheriting the freehold of some considerable area of land and other property.
The family lived at the White House, which is almost next door to the mill, and of which Peter owned the freehold. Today (1966) the mill is still operating under the ownership of the Sayer Brothers Ltd. and the White House is still there in the ownership of a Mrs. Webb. The Bridge Inn is owned by Bullards of the Anchor Brewery, Norwich, and has been modernised.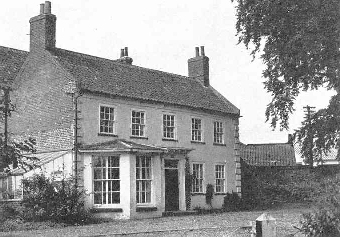 The White House, Lenwade.
The Osorio Family
On his way back to Lenwade from Paris, Peter passed through London and while there met the Osorio family, who were friends of his Aunt, Mrs. Chambers, and fell deeply in love with Grace, one of the two Osorio daughters. The Osorio family was a very distinguished one of Iberian and Jewish origin, one member of which-Ana Osorio-had been Vice-Queen of Peru in Spanish colonial days and is reputed to have brought quinine to Europe.
Peter's mother and sisters looked with great disfavour on Peter's attachment to "a fine lady from London" ostensibly because they doubted whether Grace Osorio would settle down as a farmer's wife in a remote East Anglian village, but also, one suspects, because they did not want to be disturbed from the White House.
In 1807 the Osorios went to Aldeburgh for a holiday and needless to say Peter went there to visit them. The family tradition is that Peter proposed to Grace one day and married her the next or, as a daughter of the marriage wrote years later, "Mr. Osorio said that the marriage must take place at once or they must never meet again". The reaction was strong and immediate for Peter and Grace were married in Aldeburgh in August 1807, and a very happy marriage it turned out to be.
Family Life at Lenwade
There were three children of the marriage, a son, Peter and two daughters, Grace and Belle. Grace and Belle married two brothers John and Benjamin Nunes. I will deal with Peter at length in the next chapter.

Peter Le Neve-Foster (1780-1828), miller and farmer of Lenwade. From a miniature attributed to Cosway in the Castle Museum, Norwich.

Grace Osorio (?-1835), wife of Peter Le Neve-Foster of Lenwade. From a miniature attributed to Cosway in the Castle Museum, Norwich.
The Le Neve-Foster family seem to have been quite well off, but according to Joan Parkes' researches may have lived a bit above their income. Peter evidently lived a very full life, for as well as being a farmer and a miller, he was a Justice of the Peace and had an interest in the Norwich and Lowestoft Navigation Company (I still have some of his share certificates) which was formed in 1827 to connect Norwich with the River Waveney, and thence to Lowestoft, as an alternative to the traditional river route to Great Yarmouth, which was becoming silted up and unnavigable. The main interest, historically, of this navigation project was that it was one of the first, if not the first, navigation to experiment with haulage by steam tugs in place of horses. Unfortunately, however, the venture failed and in 1845 was sold to a group of railway promoters.
For a time at least, the family had a seaside house in Great Yarmouth as well as the White House, Lenwade. Peter's son was given what, for the time, was a very expensive education. There can be little doubt that the Le Neve-Fosters were popular in the district because when rioting broke out as a protest against the introduction of threshing machines, Peter Le Neve-Foster was one of the few farmers whose stacks and buildings were never set on fire.
Peter Le Neve-Foster died in 1829, but his widow continued to live at the White House until her death in 1835. After that the house was occupied by Mrs. Leeds (nee Eliza Le Neve-Foster), certainly until 1853 and possibly until a little later than that. Peter is buried in Great Witchingham Church in the same vault as his parents in the chancel, and his wife, Grace, is also buried in the same vault, the last members of the family to be interred at Great Witchingham.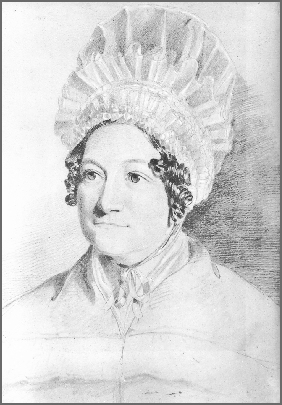 Grace Rebecca (nee Osorio) wife of Peter Le Neve-Foster I of Lenwade, mother of Peter Le Neve-Foster II. From a pencil sketch made by Elizabeth Rigby.