PETER LE NEVE, NORROY KING OF ARMS
Peter Le Neve was born in London on 21st January 1661 and was baptised at St. Michaels, Cornhill, on 20th February. He was educated at Merchant Taylors and, according to a monograph at the College of Arms, he proceeded from school to Trinity College, Cambridge, but this is not confirmed by the College records. His father died in 1681 leaving Peter and his younger brother Oliver orphans. They both appear to have had help from John Norris, a distant relative and a barrister who acted for Oliver Le Neve of Great Witchingham. I shall have more to say about John Norris later on.
Very early Peter developed a taste for genealogy and his exceptional powers of rapid working took him to the top when still a comparatively young man. In 1717 he was elected President of the Society of Antiquaries, an office he held until 1724. But long before this, in 1701, he had been attending meetings of antiquaries at the Bull Tavern and was Chairman, in 1707, of the forerunner of the Society of Antiquaries. It has also been stated that he had been President of an even earlier society in 1687. He was also a Fellow of the Royal Society and his diary records his election to that distinguished body on 27th March, 1712.
On 17th January 1690 he was made Rouge Croix Pursuivant, his first appointment at the College of Arms and one he held for fourteen years. On 5th April 1704 he was made Richmond Herald and a few weeks later, in May, he was appointed Norroy King of Arms. He was at this time also a Deputy Chamberlain of the Exchequer. Between 1703 and 1706 he was very ill, but evidently recovered because in the latter year he was sent to take the Garter to the young Prince of Hanover, Prince Ernest of Osnaburgh.
Peter's Marriage
Peter married Prudence Hughes, the daughter of a Bristol merchant, but the date is not known. Prudence is reputed to have been a shrew, but her ill temper may well be traceable to the fact that she bore twin daughters who died a month after their birth and that she never had any other children. She would appear to have been fond of children as her interest in her nephew "Poor Jackie" suggests (see Chapter III) as also does the fact that according to her husband's diary, she was godmother to several of her nieces' children.
A more unsuitable match would be difficult to imagine than Peter, an extrovert given to drinking and wenching, married to Prudence, a bad-tempered, frustrated and introspective woman. It is perhaps small wonder that he took his affections elsewhere and finally found himself a mistress in the person of "Durham Dolly". Mrs. Carnegee ("Durham Dolly") was no common whore, but a socially well-connected woman (she was a cousin of Oliver's friend Jack Millicent, I think) who had cut adrift from her family to become the mistress of an officer in Marlborough's armies. Her lover was killed at the siege of Bonn and it was after this that her occasional amours with Peter became what one imagines must have been a permanent and happy liaison.
I do not know what happened in the intervening years, but by 1727 apparently both Prudence and Dolly were dead and Peter married a second time. His second marriage was to Frances Beeston, daughter and heiress of Robert Beeston, miller, of Wichingham. The marriage took place by licence at Sparham Church on 26th July 1727, with Mrs. Hunt, the rector's wife, and a Samuel Knolles, as witnesses. One wonders why Peter and Frances were married at Sparham, the next door parish, instead of at Witchingham. And why by licence?
Peter's marriage to the miller's daughter is the first recorded in connection between the family and milling, a connection which recurred a little later and lasted until 1853. One is tempted to speculate about Robert Beeston's mill. Was it a windmill long since demolished? or was it, as would seem more likely, a water mill on the Wensum on or near the site of the present Lenwade Mill, with which the family was connected from the mid-1700s until 1853?
The second marriage did not last long as Peter died in 1729, whereupon his widow promptly married "Honest Tom" Martin of Palgrave, another famous Norfolk genealogist and a friend of Peter's. Ill-natured gossips said that Tom Martin only married the middle-aged widow in order to get possession of her late husband's notes and manuscripts, but if this was so Martin did not get much benefit because circumstances forced him to sell them and break up Peter's collection of well over a thousand documents.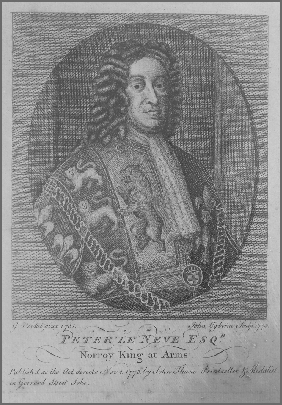 Peter Le Neve (1661-1729), Norroy King of Arms. From a steel engraving which appears to be a copy of the oil painting which hangs in the Earl Marshal's court at the College of Arms.
Peter's Death and Funeral
Peter Le Neve had the reputation of being a jovial and free and easy companion. He has also been described as a very eccentric character and judging by some of the provisions of his will he certainly must have been.
In his will he directed that his "putrid Carcase" should be buried in the chancel of Great Witchingham Church. He desired that no mourning rings should be given, forbade any black hangings or the employment of any undertakers "alias cold cooks". The last two words have been disputed and some authori-ties use the words "old rooks" which I should think is a more likely contemporary slang expression for an undertaker. He also forbade any funeral oration but did wish to have certain escutcheons, in silk, on his pall, as follows: The arms of his office impaled with the arms of his family, quartered with those of Wright and Cory. The request for the quartering of the arms of Wright, his mother's family, is understandable, but it is not quite so clear why he should also want the Cory arms which were those of his grandmother's family though, heraldically speaking this use of the arms is quite correct.
Though he was baptised into the Church of England at St. Michael's Cornhill and buried in the chancel of the parish church of Great Witchingham, Peter considered himself to be a Unitarian, though others regarded him as an atheist. The entry of his burial in the parish register is followed by this:
An epitaph to Peter Le Neve Norroy
Who lived and dyed an infidel
Here underneath this spacious stone
Lies Peter Neve that faithless one
His life and death declared the man
Deny it neighbour if you can.

In the context of the period it is not altogether surprising that Peter's Unitarianism should have been equated with atheism. Unitarianism has been crudely, but accurately, described as "One God, No Devil and twenty shillings in the pound", which means a belief in one God, a rejection of any belief in the devinity ,of Christ or of everlasting pumshment for the wicked, combined with a good and honest life. Such views may well have looked like "atheism" to a strict member of the established church in a remote rural area in 1729. The Le Neve unitarianism has recurred. The writer of this sketch is, and has been for practically all his life, a member of the Unitarian faith.
Loss of the Witchingham Estates
After Peter's death the Witchingham estates came into the possession of the Norris family in a somewhat peculiar manner. The Oliver Le Neve who died in 1678 (the relative from whom the "Duelling Oliver" inherited the estate) settled his property on his young kinsman Oliver and after him to Peter. There were other provisions in the settlement but the upshot was that if both Peter and Oliver died without male issue, the estate would go to the nearest male descendant of the original Oliver's relatives. The settlement was drawn up by a relative, John Norris, who was a barrister and later became the Recorder of Norwich. Oliver died in 1678 and when Norris came to clear up the estate he found that the ultimate heir, failing male issue from Peter or Oliver, would be a John Neve, an obscure and illiterate blacksmith in London. The relationship, though rather remote, is quite clearly traceable in the pedigree. Jackie, Oliver's only son, was, as we have seen in poor health and Norris, anticipating that he might die young, as in fact he did, bought the reversion of the estate from the blacksmith John Neve for £30 (or some authorities say £50). This was done without the knowledge of the Le Neve family, though it seems that at a later date Peter must have suspected something because he, too, sought out his distant kinsman and offered him £10 for the reversion with the idea that he could thereby upset any previous arrangement by Norris.
Norris did not live long enough to benefit personally by this somewhat shady transaction (Peter's diary contains a note to the effect that a John Norris was killed in a riding accident in 1717 but I think this refers to the son of the John Norris who drew up the settlement). Norris's descendants, however, claimed the estate after Peter's death, but the claim was resisted by the Le Neve family. A series of lawsuits followed including an appeal to the House of Lords, but in 1744 the Norris claims were finally upheld, so that for an expenditure of only £30 (or £50?) John Norris secured for his family an estate worth several £1000s a year a considerable income for the time.