OLIVER LE NEVE
Oliver Le Neve was the younger brother of the much better known, Peter Le Neve (Norroy King of Arms) and Avice Wright. His father was an upholsterer in Pope's Alley, Cornhill, and his mother was the daughter of a city merchant. He was a distant cousin of the Sir William Le Neve whose life has already been touched on. Oliver and Peter were left orphans in 1681. Peter appears to have stayed in London and Oliver to have been taken under the wing of his relative, Oliver Le Neve of Great Witchingham, who left his estates to his young kinsman and namesake as explained in the previous chapter.
Oliver was educated at Hart Hall, Oxford, apparently on borrowed money, but his inheritance of the Witchingham properties from his kinsman the "Virtuous Oliver" must have put a very different complexion on his financial position and no doubt made him a welcome suitor for the hand of Anne Gawdy, the daughter of Sir John Gawdy of West Harling.
Oliver and Anne were married sometime before 1690 and in 1691 Anne bore him a son who reappears in this story as "Poor Jackie". After Jackie's birth Anne bore another son (who died in infancy) and three daughters, but died in childbirth in 1695 and was buried in Great Witchingham Church.
Oliver Le Neve had a great friend, Jack Millicent, whose cure for all ills was either hunting, a visit to a bawdy house, or a day at the Newmarket races, and it was at his suggestion that Oliver set up a pack of hounds at Witchingham as a solace for the loss of his wife.
In January 1697 Oliver met "The Oarsham Ladies" -the daughters of Sir John Knyvet of Ashwellthorpe-and in June 1698 he married Jane Knyvet. She died in 1703 without issue and, like Oliver's first wife, was buried in Great Witchingham Church. Though Oliver's second marriage lasted only some five years, they were five very eventful ones as we shall see.
The Duel on Cawston Heath
Two months after his second marriage Oliver fought a duel which has become a well-known incident in Norfolk history. The events leading up to it were as follows. Sir Henry Hobart of Blickling Hall, the fourth baronet, had been Member for Lynn in the Oxford Parliament of 1681. He lost his seat in 1689 and took exception to remarks about this, alleged to have been made by Oliver, but which Oliver denied having made. The contents of the letter which led to the duel survive and certainly show Oliver as living up to the family motto of "Qui me cherche me trouve", as Henry Hobart was one of the best swordsmen of the day and Oliver (who was left-handed) must have written his challenge knowing full well that his chances of survival were problematical to say the least. I quote the letter in full:
"Honored Sir,

I am very sorry that I was not at Reepham yesterday when you gave yourself the trouble of appearing there, that I might not only have justified the truth of my not saying what it is reported I did, but that I might have told you that I wrote not that letter to avoid fighting you but that if the credit of your author has confirmed you in the belief of it, I am ready and desirous to meet you when and where you please to assign. If otherwise, I expect your author's name in return to this that I may take my satisfaction then, or else conclude the Imputacon sprung from Blickling and send you the time and place; for the matter shall not rest as it is though it cost the life of

Your Servant

Oliver Neve"
August Ye 20th 1698.
Hobart and Le Neve met the same Saturday on Cawston Heath about half-way between Witchingham and Blickling. Sir Henry's sword passed through Oliver's arm and Oliver's sword through Sir Henry's belly, inflicting a wound from which Sir Henry died next day, and Oliver had to flee the country.
The site of the duel was marked by a stone (now known as "The Duelling Stone") which was later moved to the garden of the Woodrow Inn on the B1149 road from Norwich to Corpusty. The inn has now become a petrol filling station and the Duelling Stone, together with the little plot of land on which it stands has been taken over by the National Trust, which also administers Blickling Hall, the home of Sir Henry Hobart.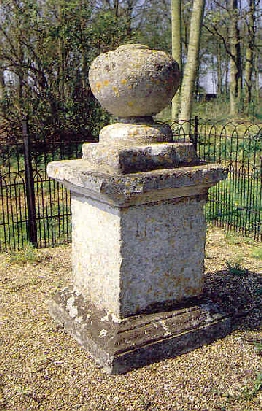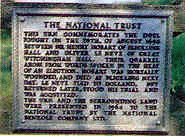 The Duelling Stone at Cawston in Norfolk. Photograph taken from "Timpson's England - a look beyond the obvious" by John Timpson ISBN 0-7117-0307-8
After fleeing to Holland, Oliver Le Neve lived in Rotterdam under a series of assumed names, first as Richard Johnson, then as Davyes and Capt. Janzen and, finally, as Mr. Browne, a sword cutler.
He was next threatened with outlawry and as the anger of the Hobart family had abated, partly because the widow wished to remarry, Oliver returned to England and gave himself up. He was tried and acquitted (according to Mrs. Neve Scarborough at the Thetford Assize) on 6th April 1700 and then settled down to the life of a country squire at Great Witchingham.
In 1704 his second wife, Jane Knyvet, died and Oliver promptly began to search for a third. Apparently he got wind of two wealthy young ladies in Kensington and his old friend Jack Millicent was sent to spy out the land. Jack Millicent reported that the family was named Sheffield and that the girls would inherit between £3,000 and £4,000 each and an estate (presumably land near what is now Sheffield Terrace off Kensington Church Street). As to the young ladies themselves, Millicent reported as follows and here I quote from his letter to Oliver. One of them-the elder-is "... tall, well shaped, mild temper, extraordinary housewife, her father's commands law, and not acquainted with any young man, her face very agreeable, age 29"; and of the younger sister "... a beautiful face, much inclined to fat, and in her temper a perfect stoic, not of so ready or pleasing conversation as the other her age 26."
On 31st July 1707 Oliver married Elizabeth Sheffield, the elder daughter of Robert Sheffield of Kensington. The marriage did not last long, however, as Elizabeth died suddenly on 8th November 1707, barely three months after her wedding day.
"Poor Jackie"
Let us now turn to Oliver's son. His first wife, Anne Gawdy, bore two sons and three daughters. One son died in infancy and the other, John, known to the family as "Jackie", lived to reach the age of twenty when he too died. Jackie was a delicate and sickly lad and there is also some ground for thinking that he had difficulty in speaking. There is mention of his communicating with his grandfather Gawdy "by means of signs" but that "later he was taught the sound of syllables and words" as well as being taught to write. He was sent to a tutor in the Charterhouse where his Aunt Prudence (Mrs. Peter Le Neve) accused the tutor, a Mr. Ford, of neglect, saying that Jackie was starved and "had the itch". Mr. Ford denied this and added that the alleged "itch" was where the cat had scratched Jackie when he cut her tail off.
Whatever the rights and wrongs of the case, the result was that Jackie was removed from Mr. Ford and sent instead to a Mr. Joseph Hayton where he seems to have improved all round. Jack Millicent wrote to his father in 1704 and described Jackie as ". . . so full of Roguery that we know not what to do with him, but much less without him."
After a number of bouts of ill health, Jackie was taken ill again in May 1711 and by the 10th July lay dead in his father's lodgings in Henrietta Street, Covent Garden. He was buried two days later at Covent Garden church "in the north east corner of the church yard by a tree just within the rails".
Oliver did not long survive his son as he died on 23rd November of the same year. The following account of his death is taken from the diary of his elder brother, Peter. "Oliver Le Neve of Great Witchingham was taken with a fitt of apoplexy at the house of Sir Bassingbourne Gawdy, bart. at West Herling Wednesday 21st of November 1711 and dyed thereof about 2 of the clock in the morning of the Friday following being the 23rd instant, aged 49, and was buried in the chancell of Great Witchingham church on Munday 26th day of the same month".
Sir Bassingbourne Gawdy was a brother-in-law with whom Oliver remained on extremely friendly terms after the death of his first wife, Anne, Sir Bassingbourne's sister. After Oliver's death the Witchingham estates passed to his elder brother, Peter.
Oliver, the Country Gentleman
Oliver lived the life of a typical country gentleman of the period. He was a Justice of the Peace and commissioned as a Captain in the Militia, was fond of hunting and horse racing, was a great gardener and planter and, by contemporary standards, a very go-ahead farmer. But his main interest seems to have been fishing and especially netting for pike. A good deal of his correspondence is about the buying and selling of hunters and about his pack, for by 1707 Oliver Le Neve was reputed to have the best pack of beagles in England.
There is a good deal too in his correspondence about the buying and exchanging of trees and shrubs and also about the building of a 12-foot garden wall. There is still a very fine brick garden wall standing amongst the remains of the original Great Witchingham Hall and it is probable that this is the wall alluded to in Oliver's letters.
His farming operations are interesting because he was growing turnips as stock feed in Norfolk in 1698, about thirty years earlier than "Turnip Townsend" who is generally credited with having introduced the root into England for this purpose.
Oliver's Daughters
After Oliver's death and Peter's inheritance of the property, Oliver's three daughters apparently continued to live at Witchingham. Peter himself probably spent most of his time m London, though his diaries contain many, if scattered, references to Witchingham and his nieces.
Isabella, the eldest, never married and seems to have moved to London, perhaps towards the end of her life, as her memorial in Ringland Church alludes to her as "of Arlington Street, St. James, Westminster". She died in 1759, at the age of seventy-four, and is buried in Ringland Church.
Anne, the second daughter, was married in 1718 to an apothecary named John Rogers, who later became a Licentiate in Physic. The Rogers settled at Stamford in Lincolnshire where they had a daughter who married a barrister, but this side of the family fades from the story.
Henrietta, the youngest daughter, is important because she married a distant cousin, Edward Le Neve, and their son Peter lived in Norwich and Ringland, a parish close to Witchingham. Henrietta seems to have been a very bright young woman. Her uncle Peter records this in his diary: "Henrietta Le Neve came of age 21 years old, the 11th February 1717, and the birthday kept at Wichingham in great splendour while I and Mrs. Neve absent, and drank me out of one hogshead of nog". Nog was a very strong kind of beer peculiar to East Anglia and a hogshead is about 60 gallons. It must indeed have been a splendid party.