EARLY GENERATIONS
The first name in the pedigree is that of Robert Le Neve who was living in Tivetshall in Norfolk in 1399. There is no traceable connection with the John Le Neve who was there in 1248, but it is obviously possible and perhaps even likely that John was the progenitor of Robert.
Robert had a number of descendants, some of whom moved to Ringland. The date of the move is not known but the Le Neves were almost certainly there by 1550, as the pedigree mentions a John Le Neve of Ringland in 1558. The close family connection with Ringland continued for over two hundred years, until the daughters of the last Peter Le Neve sold Ringland Hall about 1790 and, even today, four hundred years after the first trace of the family there, there is still a rather remote connection through the Anne Le Neve Educational Foundation which is operating in the parish.
This charity derives from an Anne Le Neve who died in 1721. There were two Anne Le Neves who died in Ringland in that year, the Anne Le Neve who was the wife of the Francis Le Neve who died in 1748; and an old lady of seventy-eight, the Anne Le Neve who is buried in the chancel of Ringland church and was the daughter of another Francis Le Neve. It is difficult from the distance of 1966 to be quite certain which Anne Le Neve founded the charity, or perhaps both had a hand in it.
The charity owns twelve acres of land at Weston, the income from which is administered by trustees, one of whom has to be the vicar of Ringland. Originally the income had to be devoted as to a small part to the village school and as to the larger part to providing for the children of the village an education more advanced tmn that which the village school could provide.
The parcel of land was taken over, compulsorily, by the Air Ministry during the 1939-45 war as part of Weston Airfield and since the war has become part of the Bernard Matthews Turkey Farm, which is managed from Great Witchingham Hall and is probably the biggest farm of its kind in the world, having an output of hundreds of thousands of birds a year.
The Anne Le Neve Educational Foundation has survived these vicissitudes and is still administered by trustees, one of whom is today (1966) the Rev. C. H. Knapp, the rector of the combined parishes of Ringland and Taverham. The charity has an income of about £60 a year. This is applied to making grants towards the cost of school uniforms for children of the parish who go from the primary school to more advanced schools for which a school uniform is required and whose parents have difficulty in providing it.
One is tempted to speculate as to why this charity was ever started. Francis and Anne had two daughters, one named Anne, who both died in infancy. Perhaps they were fond of children and started the Foundation to do for other children what they would have done for their own had they lived. Or perhaps Francis, who outlived his wife by some twenty-seven years, felt her loss very deeply and founded the charity to keep her memory alive. Or again, and perhaps more probably, Miss Anne Le Neve was an old lady who was fond of children, but died unmarried and founded the charity as solace for a childless life and a lonely old age. who knows what personal tragedy of 1721 may lie behind the school uniforms for the brighter children of Ringland in 1966?
Ringland church contains a number of memorials to the Le Neve family. One of them, to the memory of Isabella Le Neve, I will deal with in detail later on as it is an important clue to the family history of the mid-1700s. The first tombstone inscription is that of Francis Le Neve who died in 1708. Next to him, in the chancel just in front of the high altar, is that of the Anne Le Neve who died at the age of seventy-eight.
She is described as the daughter of Francis Le Neve but obviously from the dates and ages this is not the Francis who occupies the next tomb. Isabella, whom I have already mentioned, comes next, and then Peter Le Neve and his wife Anne Elizabeth Mingay. Next to them is the tomb of Alice (died in 1681), the wife of Henry Le Neve who died in 1691 and is buried at Great Witchingham. The relationship between the Ringland and Witchmgham Le Neves was very close indeed as the last-mentioned tombstone inscription suggests, a suggestion borne out by a close examination of the complete family tree.
As a short footnote to the foregoing, it is interesting to learn that the present (1966) churchwarden at Ringland is a Mrs. Grieff, who, before her marriage was a Miss E. Neve and who claims to be a remote descendant of the original Ringland Le Neves. Though an examination of the pedigree does not disclose any traceable connection, this claim may well be true.
A little later on, in the early 1600s, a branch of the family had also settled in Great Witchingham where a Francis Neve (or Le Neve) leased property from New College, Oxford. This was the beginning of a connection between New College and the Le Neve family which was not finally severed until 1853. The earliest tombstone inscription in Great Witchingham church is that of a Henry Le Neve who died in 1653.
Amongst the descendants of the original Robert Le Neve are several interesting and colourful characters about whose lives I have been able to collect a certain amount of information.
Sir William Le Neve of Aslacton lived between 1600 and 1661, though the exact date of his birth is uncertain. He was appointed Mowbray Herald in 1622, York Herald in 1625, Norroy King of Arms in 1633 and Clarenceaux in 1635. He was knighted in 1634. In 1642 he was at the Battle of Edgehill with the Royalist armies and was sent by Charles I to Essex, the commander of the Parliamentary forces, with a proclamation and the offer of a pardon before this, the first and indecisive battle of the Civil War. In 1658 his mind gave way and his work at the College of Arms was taken over by his colleagues. He died, insane, at Hoxton in 1661.
Another descendant was John Le Neve of Cavendish in Suffolk. The exact relationship has not been traced, but it must have been fairly close as Peter Le Neve of Great Witchingham was the guardian of John Le Neve's grandson and is alluded to as a "kinsman". John Le Neve of Cavendish migrated to London and had three sons and one grandson. One of the sons, Richard Le Neve, R.N., figures in Pepys' Diary in connection with a complaint made by Sir William Jennings against "his lieutenant Le Neve" who appears to have been involved in a drunken brawl in November 1666.
Richard evidently lived this down as he was made captain of the "Phoenix" in 1671, of the "Plymouth" in 1672, and of the "Edgar" (a frigate) in 1673. He was killed in a naval action against the Dutch on 11th August of the same year-1673-and was buried in Westminster Abbey where there is a monument to his memory. Richard's father and mother, and his stepmother and grandmother are also buried in the Abbey.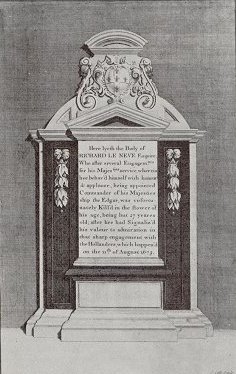 Steel engraving of the Richard Le Neve Memorial in Westminster Abbey.
Richard had a nephew-the Rev. John Le Neve-whose father died when he was fourteen years old and left him under the guardianship of a distant cousin, Peter Le Neve of Great Witchingham (the Norroy, who reappears later in this story).
John Le Neve was born in 1679 and after an education at Eton and Trinity College, Cambridge, carried out a great deal of genealogical research. His "Monumenta Anglicana" is still, after 250 years, regarded as a work of reference though it is by no means the only book he published. In spite of the success of his books he got into financial difficulties and the Bishop of Ely, with whom he was on friendly terms, suggested that if he would take Holy Orders he could be given a living and his financial worries would be at an end. John agreed, was ordained and in due course the Bishop of Ely presented him with the living of Thornton-le-Moor in Lincolnshire. This does not appear to have done the Rev. John much good. He was given the living in 1722 but at the end of the same year he was committed to Lincoln Gaol for insolvency. How long he was kept there is not known, but he died in 1741 and there is no suggestion that he died in a debtors' prison. Perhaps his old friend, the Bishop of Ely or his wife's relative, the Duke of Albemarle, came to his rescue. It is unlikely that his former guardian, Peter Le Neve, could have done so as he was not a wealthy man.
The Le Neves of Great Witchingham
As a contrast to the Rev. John Le Neve and his insolvency, I now turn to the Great Witchingham Le Neves and in particular to an Oliver Le Neve who lived there between 1600 and 1678. He is buried in Great Witchingham Church and must have been a very popular and substantial citizen as the following inscription on his gravestone shows:
"Here lyeth Oliver Le Neve Esq., a faithful subject of the King, an obedient son of the Church, a stout patron of justice, and a true lover of his country, no friend to popery or presbytery, but a zealous assertor of the Church of England, as nearest to primitive Christianity and the very sanctuary of the English interest liberty and property: he was for his intellectuals of a most sound, solid, deep, and piercing judgement, for his morals, of a most prudent, sober, grave, just, generous and in every way obliging, virtuous in conversation wherein he eminently excelled and therin constant to his death which was Jan 21, 1678 and in the 78th year of his age. May his posterity immortalize his name by imitation of his virtues VIRUS BONUS EST HIC, QUI UT LEGIS PATRIAE, SIC SACRUM RELIGIONEM IRMITER EXCOLUIT."
From the dates it would appear that this paragon of virtue is the Oliver Le Neve who was responsible for installing the large painting of the Royal Arms which still hangs over the inside of the door of Great Witchingham Church. He had no children, but by a settlement dated 1674, he left the Witchingham estates to a young relative, another Oliver Le Neve, who is, without doubt, the most colourful and interesting character in the whole Le Neve story.