At this point we reach my father's generation, some of whom are still living. On the principle that one should never attempt to write contemporary history, I think that the death of Uncle Clement is a logical place to stop, and to express the hope that future generations of the Le Neve-Fosters will produce at least a few worthy successors to Sir William, the Clarenceaux and Peter, the Norroy: to Peter the Secretary of the Society of Arts and to Sir Clement.
These notes have dealt mainly with the Ringland and Witchingham Le Neves and especially with those who became the Le Neve-Fosters. There were, of course, other branches of the family and though they do not seem to have produced many notable characters, for the sake of completeness I summarise the story of the other branches below.
The Robert Le Neve who died in Tivetshall in 1486 had two sons and two daughters. One son, Jeffrey, is the ancestor of the Le Neve-Gilman family, members of which were still living at Hingham in Norfolk as recently as 1879.
Another son, John, had a son and a number of grandchildren. One of the grandchildren-Thomas Le Neve-moved to Ipswich and it is thought that the Essex Le Neves are descended from him. One of the Essex Le Neves-Peter-was a land surveyor of quite exceptional ability in Ardleigh in 1793. Much of his work has survived and is still (1966) being referred to.
Robert's other son, John, settled at Ringland and it is from him that the Le Neve-Foster family is descended.
A third grandson-Francis-is ancestor of both John Neve, the illiterate blacksmith and John Norris, who bought the reversion of Witchingham from the blacksmith for £30.
There are other branches of the family, for example the Le Neves of Swanton Morley who also derive from one of Robert's grandsons, Richard, and the Le Neves of East Tuddenham who are an offshoot of the Ringland Le Neves. Several members of these families were in Holy Orders.
It is at least possible that the Miss Ethel Le Neve who was connected with the Crippen murder case of 1910 would be descended from some branch of the family, though she herself was not, as has sometimes been stated "from Norfolk".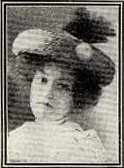 Ethel Le Neve
Her father was a commercial traveller in the coal trade and lived in Great College Street, Camden Town, London N.W., and Ethel herself was living in lodgings with a Mrs. Jackson in Constantine Road, Hampstead, between 1908 and 1910. She might be descended from the Swanton Morley Le Neves who are traceable up to 1862 or from the Essex Le Neves, though this branch of the family is not traceable later than about 1800. The blacksmith John Neve's family died out in 1707.
I have not been able to trace the connection with the other branch of the family, the Neve-Scarboroughs.
R. H. Mottram "East Anglia ". Chapman and Hall, 1933.
Francis Rye Calandar of the correspondence of Oliver Le Neve, 1675-1743. Goose, Norwich, 1895.
Francis Rye Index to Norfolk Pedigrees, 1896.
C. A. Carthew Extracts from the diary of Peter Le Neve.
"Norfolk Archaeology", Vol. III.
C. A. Carthew "History of the Hundred of Launsditch." Vols. I, II and III, 1897.
Anon. "Excursions into Norfolk." Vol. I, 1818.
G. W. Marshall Le Neve's "Pedigrees of the Knights". Harleian Society, 1873.
Joan D. Parkes "A Norfolk Worthy." History Teacher's Miscellany for April, May and June, 1929.
W. T. Shore "Trial of J. B. Rush." Notable Trials Series, Hodge, 1928.
F. Young Trial of H. H. Crippen." Notable Trials Series, Hodge, 1920. (Appendix D.)
R. Le Neve-Foster "Recollections." Printed privately, 1918.
H. B. Wheatly "Diary of Samuel Pepys." Bell, 1923.
Janles Dugan "The Great Iron Ship." Hamish Hamilton, 1953.
Chas. Hadfield "British Canals." David & Charles.
Neve Scarborough "Sweet Witchingham" (MSS of an unpublished novel based on life of Oliver Le Neve).
Royal Society of Arts Files of "R.S.A. Journal" and other Records.
Royal Photographic Files of "Photographic Journal" and other Society records.
H.M.S.O. Calender of Inquisitions.
Burke General Armory for 1884.
Great Witchingham and Ringland Parish Registers.
Press Cuttings, letters and other documents in the possession of Peter Le Neve-Foster.